General information
On the official littlepandaforex.com site, information about more than 33 thousand clients is placed. Even the screenshot with student results can be seen there. However, it isn't real proof.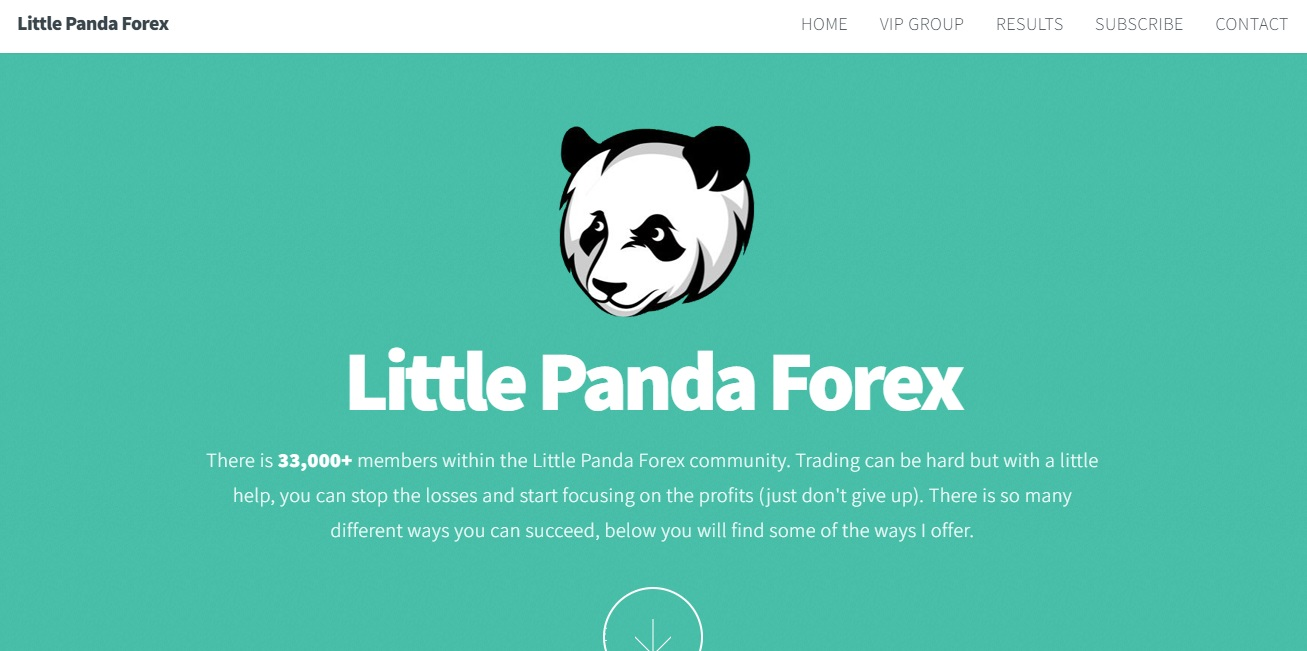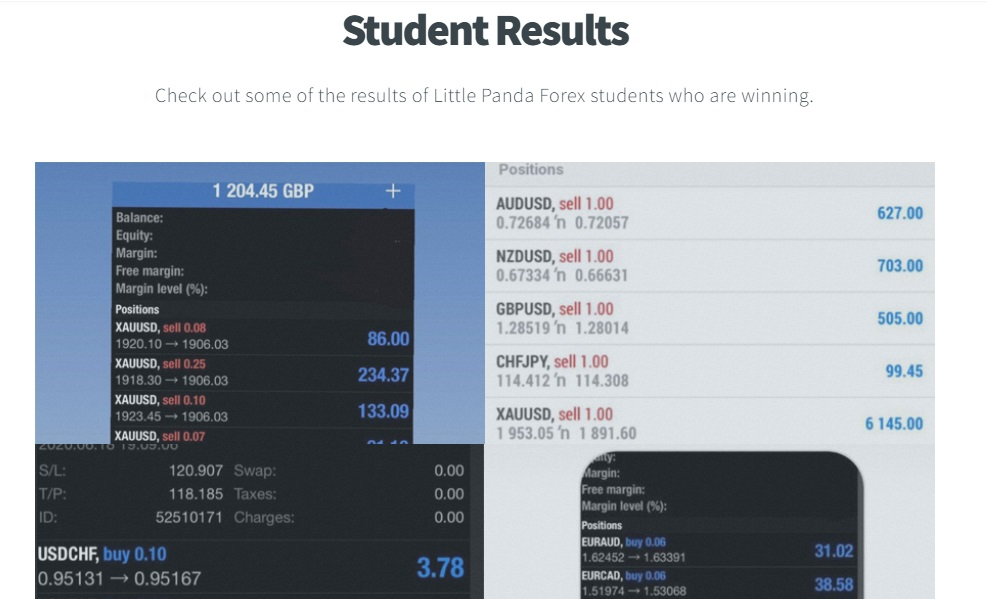 Quite below, we can see the mentioning of the YouTube channel.
LittlePanda has its own private Telegram channel with signals, but they say the opposite on the official website.

They say that if you join them, you will become one of 5% of traders who earn money on the market.
Conditions
You can subscribe to signals only for a limited period of time, just for a month. However, you may extend the subscription period if you want.
Reviews
Let's look at statistics and reviews on Trustpilot https://www.trustpilot.com/review/littlepandaforex.com. The average mark is 3.1. It isn't very good.

If we talk about the positive-negative reviews ratio we have the following numbers: 53% of them are negative, and 39% are positive.
The content of the reviews tells us that this broker isn't worth the money you pay. Most traders don't recommend this company. Let's show some of them.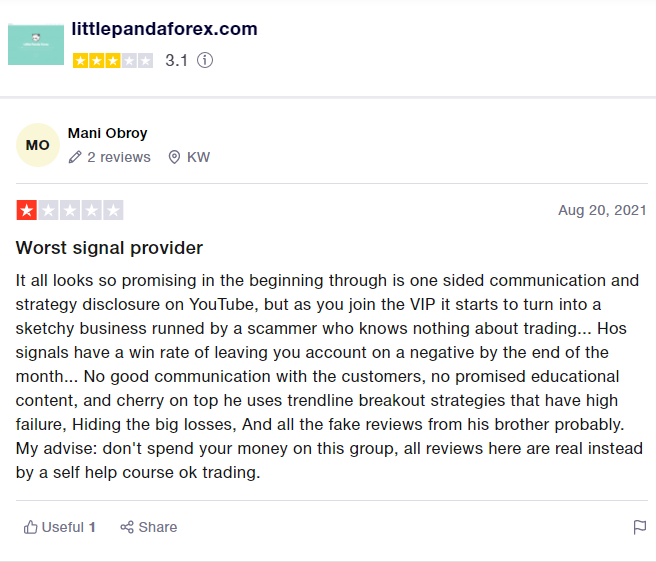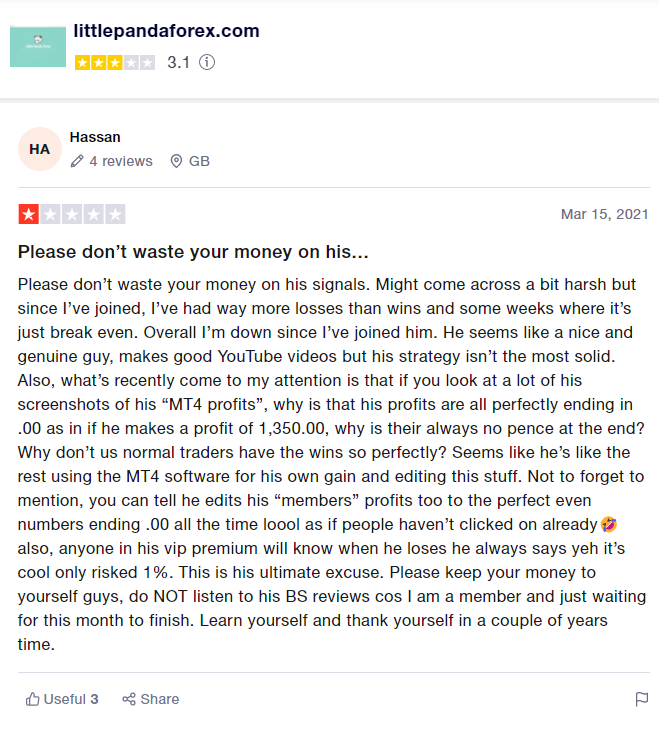 Social media
Panda Trading has accounts on Instagram and YouTube.
Instagram
The account is small - 16,300 subscribers. In stories, they give statistics, results, reviews, ads - nothing new. In the posts, everything is the same. Also, we see photos of one person. Maybe, he was the creator of this project. It increases a trust level in the eyes of potential customers. People see that a creator doesn't make any attempts to hide himself, and this fact makes customers think that it is a reliable signal provider.
However, as we saw previously, this company doesn't say that it is a signal provider. Moreover, it denies this statement.
Also, on this website, they claim that great orders are published. However, we haven't seen any unprofitable deals. It is impossible. Unprofitable orders are present even in very quality trading systems.
YouTube
The signal provider has hidden the number of subscribers to its channel. It is a great idea for a business but not for us. Since we check this channel using the Social Blade website, we can find out a lot of interesting information about this channel.

As we see, the Little Panda Forex channel has quite more than 1 million subscribers. However, the total number of videos that are uploaded is 24 and the number of views is 117 thousand. On average, only 0,3% of the entire audience reacts to the video.
Free Telegram channel
Let's describe a free Telegram channel: http://t.me/LittlePandaForex.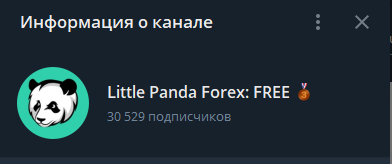 In this channel, the results of orders, reviews of short ideas with graphs, and their own videos from YouTube are published. If you want to have a paid subscription, you need to go to the link that is presented on the website and in the channel.

I have subscribed to the paid channel, collected all the signals, and checked them. Let's discuss this a bit.
There are not so many subscribers in the premium channel. Their number is 295. The author publishes videos, comments on the instruments. This channel looks alive.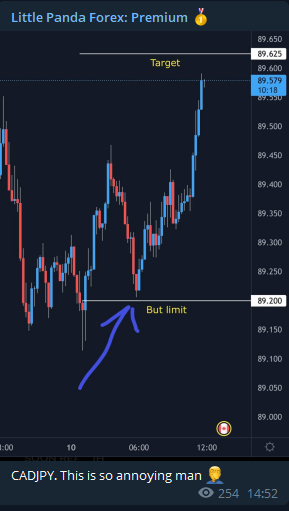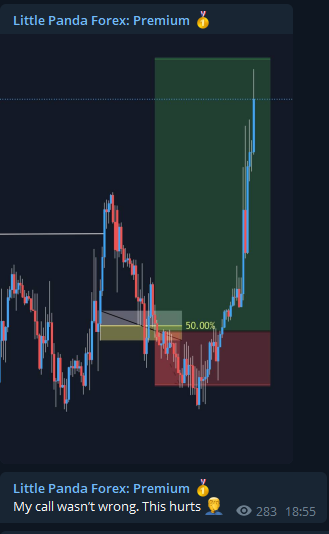 Who does the trading? It isn't understandable. It may be the author of the channel or a person who gives signals according to the principles of classic price movement.
The number of signals isn't very big. Naturally, it is great because rare signals increase a chance for great results.
Let's show some of them.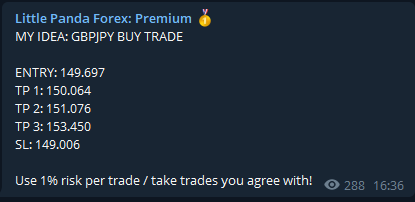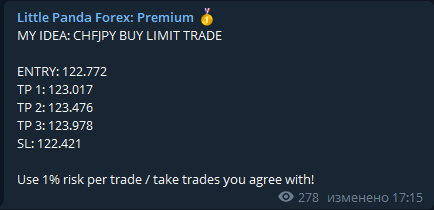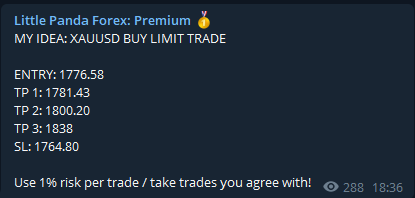 As we see, we have three take profits. I didn't manage to find great statistics about results both in free and paid channels. Thus, let's look at my own statistics.
I collected all the paid signals and checked them.
What do I want to say about these statistics? Gold is an instrument that is the most popular. Almost the fifth part of all the orders deals with gold. You need to remember that gold is a difficult financial instrument, associated with high volatility, the price of the lot is higher than usual currency pairs, and risks are higher compared to some other financial instruments.
The most profitable currency pair is GBPJPY - 10 profitable orders out of 19. The average risk is 2.84 per one order. The profit for the checked period is 488,3 pips.
The most unprofitable currency pair is EURAUD - 13 orders have been opened in total, and noT one of them was profitable. The risk-income coefficient was 3.05 and the losses for the period of checking were 659,1 pips. It is significantly more than the most profitable currency pair.
The total income for this period was 360.7 pips.
Wrapping up
According to the information above, we can draw some conclusions.
What are the positive moments of this signal provider? In general, it is a real Telegram channel and social media. In the Instagram profile, the provider shows his face and doesn't hide.
Also, on social media and YouTube channels, you can see useful information and visit a minimalistic and attractive website.
What negative aspects can we point about this provider?
Very negative reviews

Lack of clear statistics made by brokers

Very high price for subscription

Three take profits

Lack of income.
To sum up, one should not trust these signals. They are extremely bad.