Official website review
Let's start our review with an official website of this company. It has a lot of pages, the information is described in detail. That's why it is easy to understand how to get signals, use them, and trade correctly. There are a lot of links to different pages where the company proposes to register with affiliate brokers using a referral link. Also, you can use a demo account to test their signals. There are a lot of links on the official website.
What can we say about the broker that this company recommends? This is a scam project that was created in 2018. We can understand this from the reviews.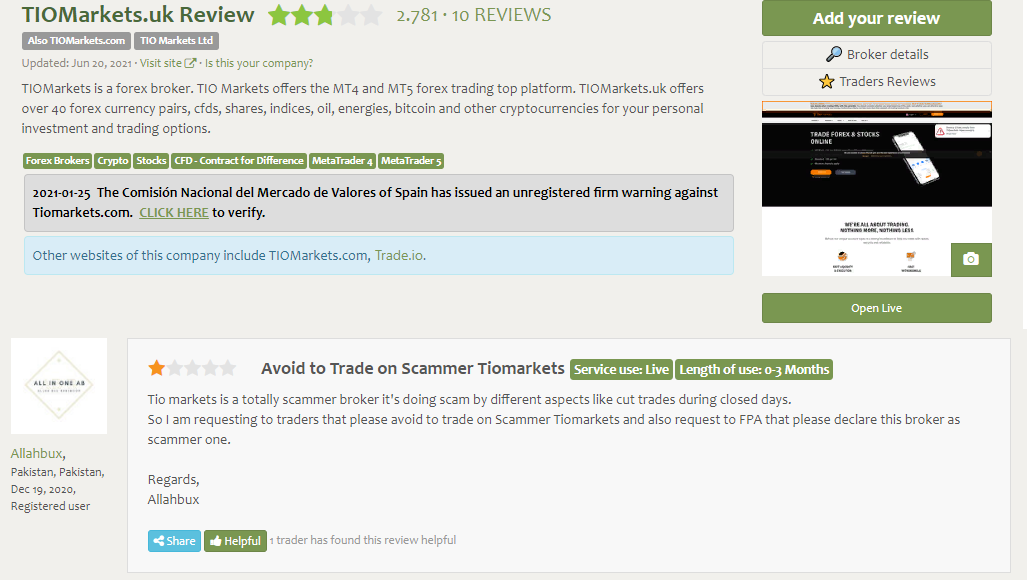 One more interesting moment - they don't say that they are providers of the signals. They are the intermediate node in a chain. Moreover, they say that FXPremiere is a company that isn't a financial analyst at all.

However, they assure that their signals are precise. To prove their words, they propose subscribing to a free Telegram channel.
The number of subscribers is 46,200. There, everyone can see signals, analytics, video reviews, and other content created for marketing, not for real use.
There is one more website FXPremiere Crypto http://cryptodcurrencysignals.com where signals about cryptocurrency are sold.
There is no legal address, no responsible persons are represented, there is no information about people who are "not financial analysts at all".
FXPremiere, according to the information on its website, was created in 2010 by experienced people.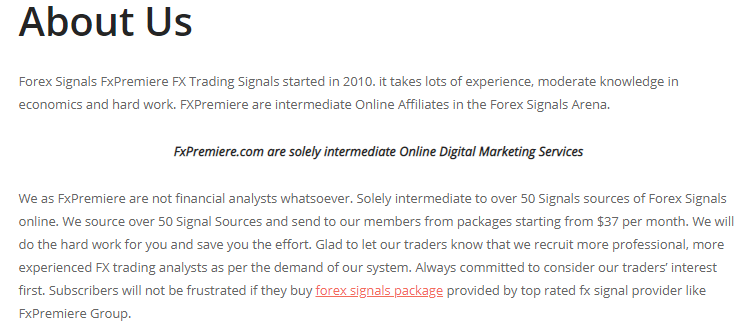 Social media
Also, they have a YouTube channel with 1,57 thousand subscribers.
Their account was registered 8 years ago and has 100 publications. Videos aren't popular, they have 50 views with 1,570 subscribers. They publish prognosis, reviews, and other content. All the videos have the name "Telegram Forex Signals". Absolutely, all.
Twitter has 57 thousand subscribers, and there is almost no reaction to the posts. Only some content gets 10 likes.
Facebook is almost the same. Only the number of subscribers is much lower – 4,900. The same situation is under the posts. There isn't any reaction to them.
Instagram has 24 thousand subscribers. We have the same situation – 24,000 subscribers and only 10 likes on average for a post. There aren't any other reactions. Videos don't get more than 100 views.
What conclusion can we draw? There aren't any people who are interested in the activity of this company but the number of subscribers is relatively big. What does it mean? Subscribers are artificial.
Reviews
We have almost 3,000 reviews, 3% of them are negative, the average rating is 4.8. When I read them, I noticed some patterns that I haven't seen previously. This is the way moderators delete negative reviews. The user of FxPremiere leaves a comment in the reviews that it is a spammer, and the administration deletes the post. That's why this company has such a great rating.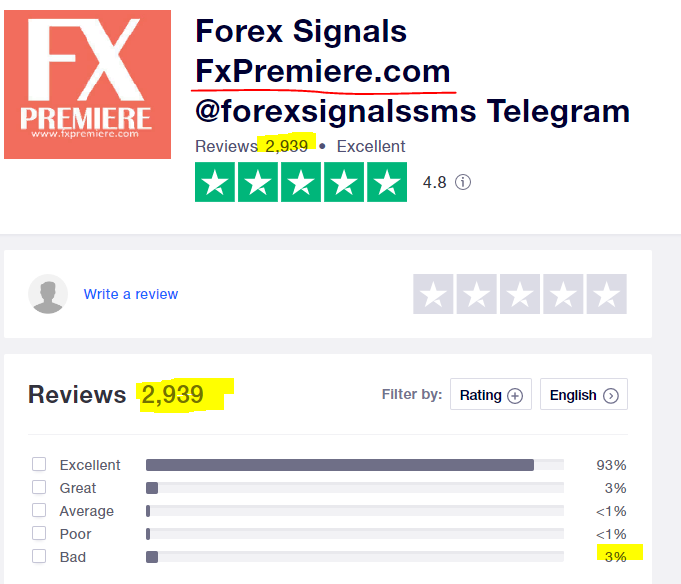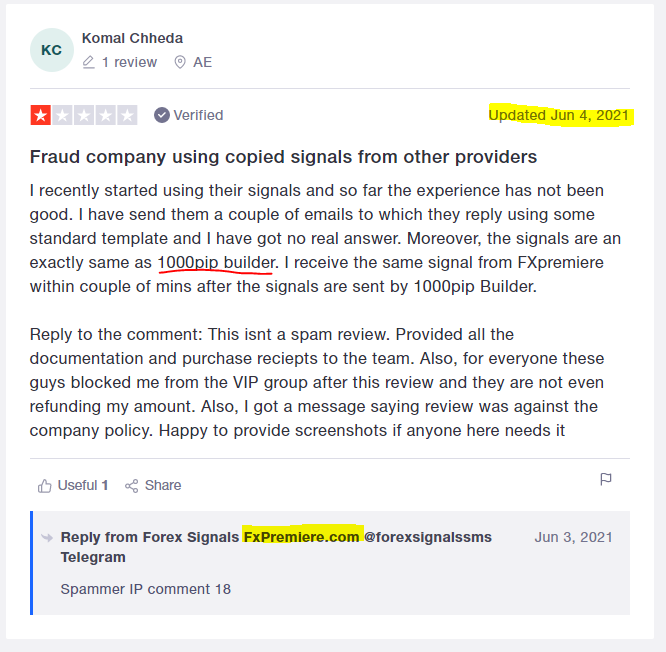 In this review, a person says that this company is a fraud. After that, the company that is a provider of these signals writes that this is a spammer and then, the administration of TrustPilot deletes it without checking. It is a very tricky way to get yourself a 4.8 rating.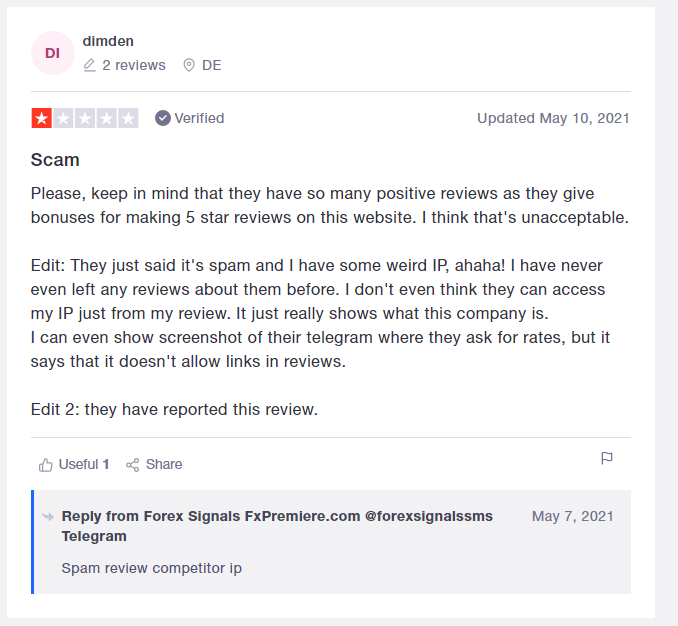 We have the same situation here. The company encourages positive reviews and if someone leaves negatives, workers of it write that it is a spammer and these reviews are deleted.
How does it work?
First of all, we need to choose a suitable subscription plan.
Then, you need to pay and you will get instructions sent to your mail. When you perform all the required actions, the administrator sends a link to a Telegram channel where you can get signals and trade. I bought this subscription, checked the signals, and here is what I have to say.
In my example, we have had signals since January of 2021. Let's start. This is a table with key points with some notes.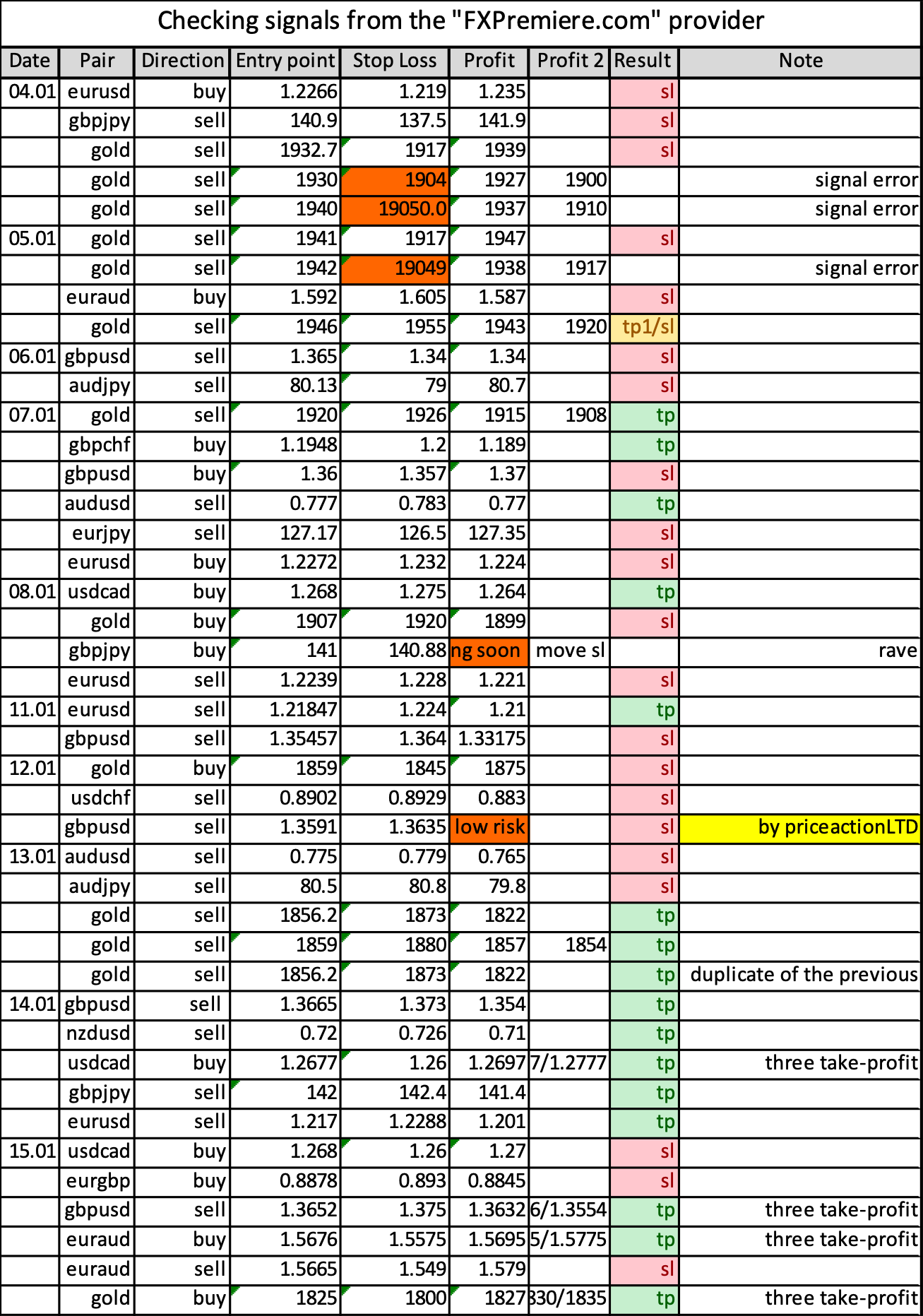 Why has FXPremiere written that they aren't signal providers and don't consider themselves as professional analysts? They don't want to be responsible for the negative results of their clients. They haven't given any arguments to trust them. Nevertheless, they are still trusted. People give them their money and don't get what they want.
Let's start with a fact. When you get a link to the VIP channel of the administrator, you enter the usual channel with trading signals and analytics from tradingview.com.
FXpremiere has the following page from http://tradingview.com.

They publish their ideas on the Forex market. It would be great if they wrote analytics and prognosis by themselves. As a base of their signals, FXPremiere took two accounts of popular traders: DeGRAM Forex Signals and Forecast and Lingrid Forex Signals.
They use a description of the signals, key features that these providers use on their telegram channels and only change the chart. However, they can't do correctly even these simple actions. They insert one graph instead of another. Probably, it means partnership in their opinion.
The first proof: prognosis about EURUSD made on 12th of July, 2021. You see two screenshots on the screen. On the left, we have a publication made by Lingrid on Instagram and on the right, we have the following:
The profile of scammers on TradingView.

They publish the same information with a difference of 4 hours.

The graph of scammers doesn't make any sense. It only has a monthly time frame and just an arrow. We can suggest that this graph has been made by a bot.

A currency pair that is analyzed.

The description of prognosis is copied word for word. It is interesting because TradingView forbids plagiarism but there is probably no checking.

Trader Lingrid publishes the results of its prognosis in its Telegram channel. Also, it publishes the links to the previous ideas where everything can be checked. When we compare the information from the prognosis of FXPremiere, we see that the information consists of all the same symbols, smiles, numbers.
Do you understand that FXPremier doesn't worry about the quality of its content at all? They set up their copy bot and are just relaxing.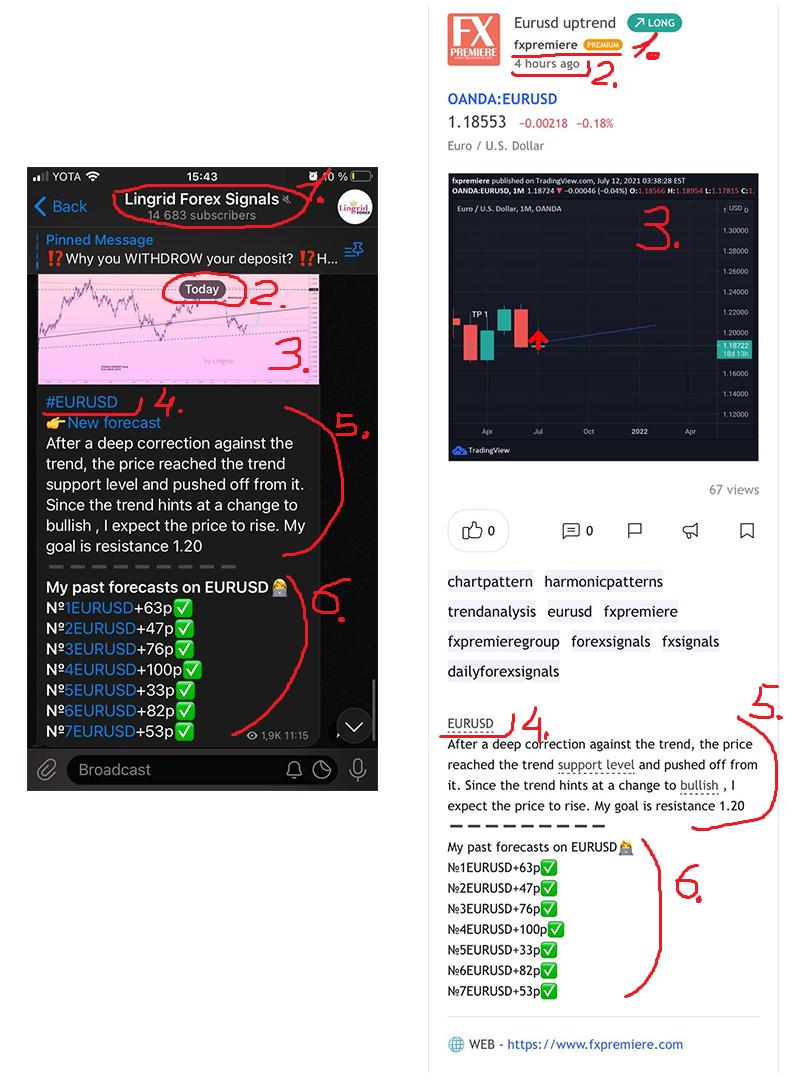 The second proof. It is a warm-up post at the DeGRAM Forex Signals and Forecast Trader.
Degram published a post on the 30th of December, 2020. The scammers published their post on the channel on the 31st of December. Content is almost the same. The only exception is other links and feedback addresses.

Each Degram user has a link to check everything you are interested in.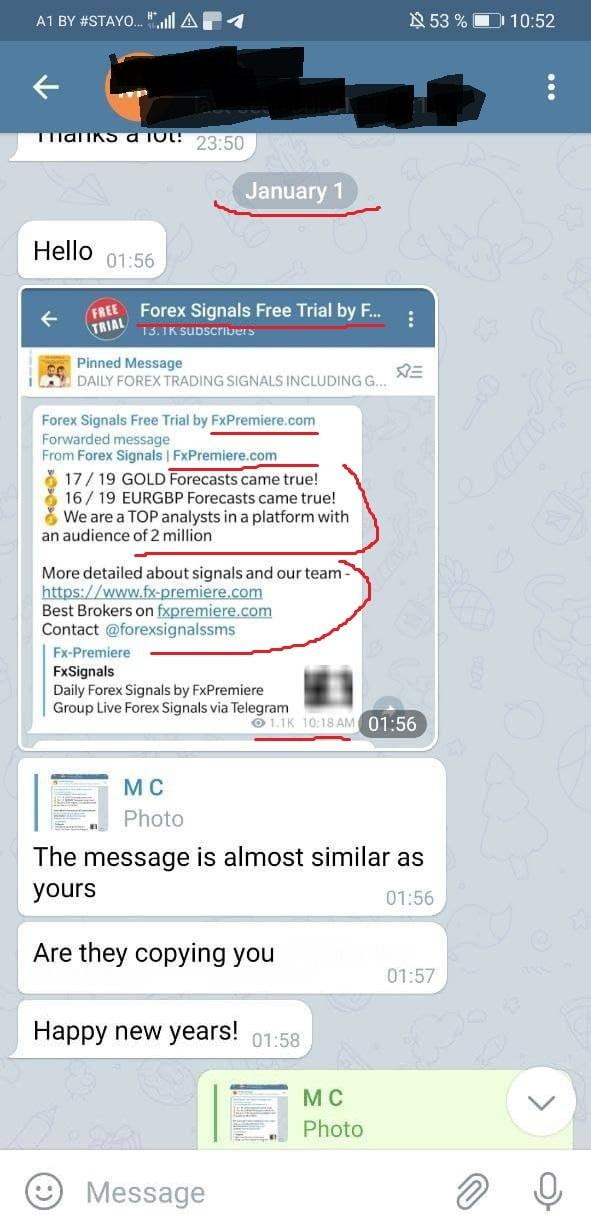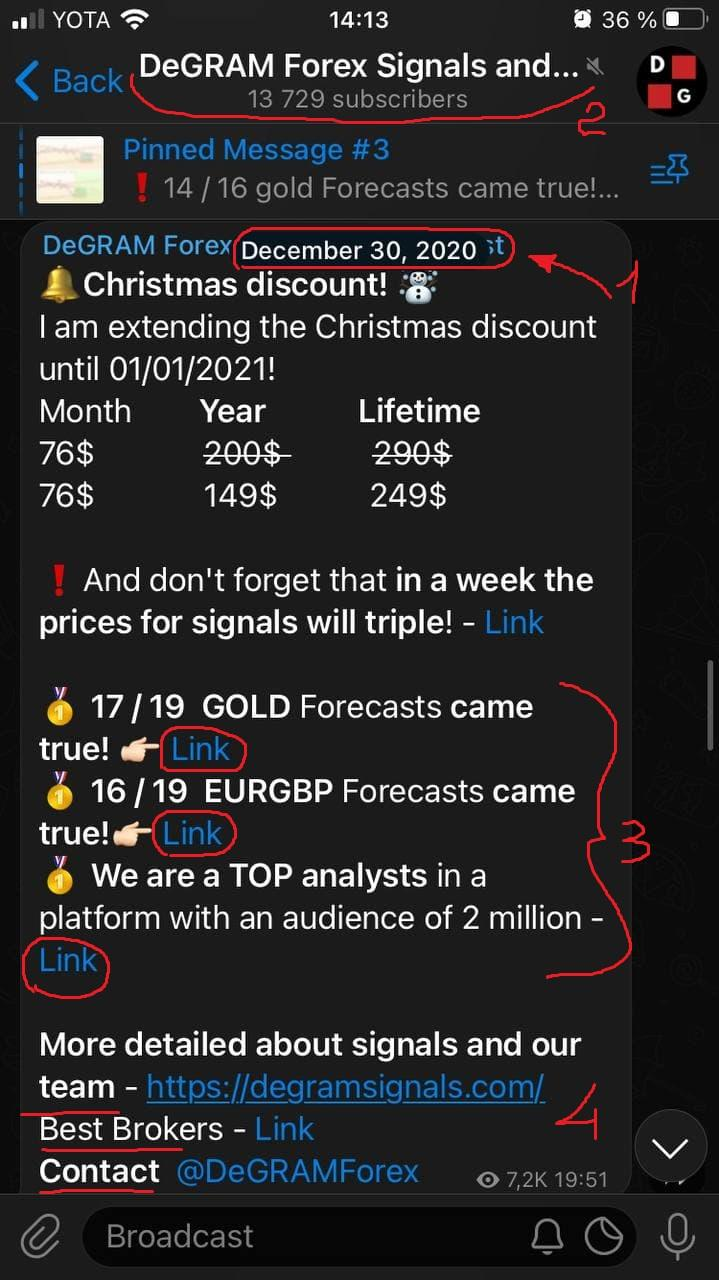 A similar situation with copying forecasts, as with Lingrid. The post is totally copied. The only difference is a graph that is about USDCHF, not about gold. As we see above, the prediction is about gold, not about USDCHF.
Compare the posts from the Degram account and FXPremiere scammers, and you will see that everything is copied, but they also wrote the level of how well the prediction is written in the Telegram channel.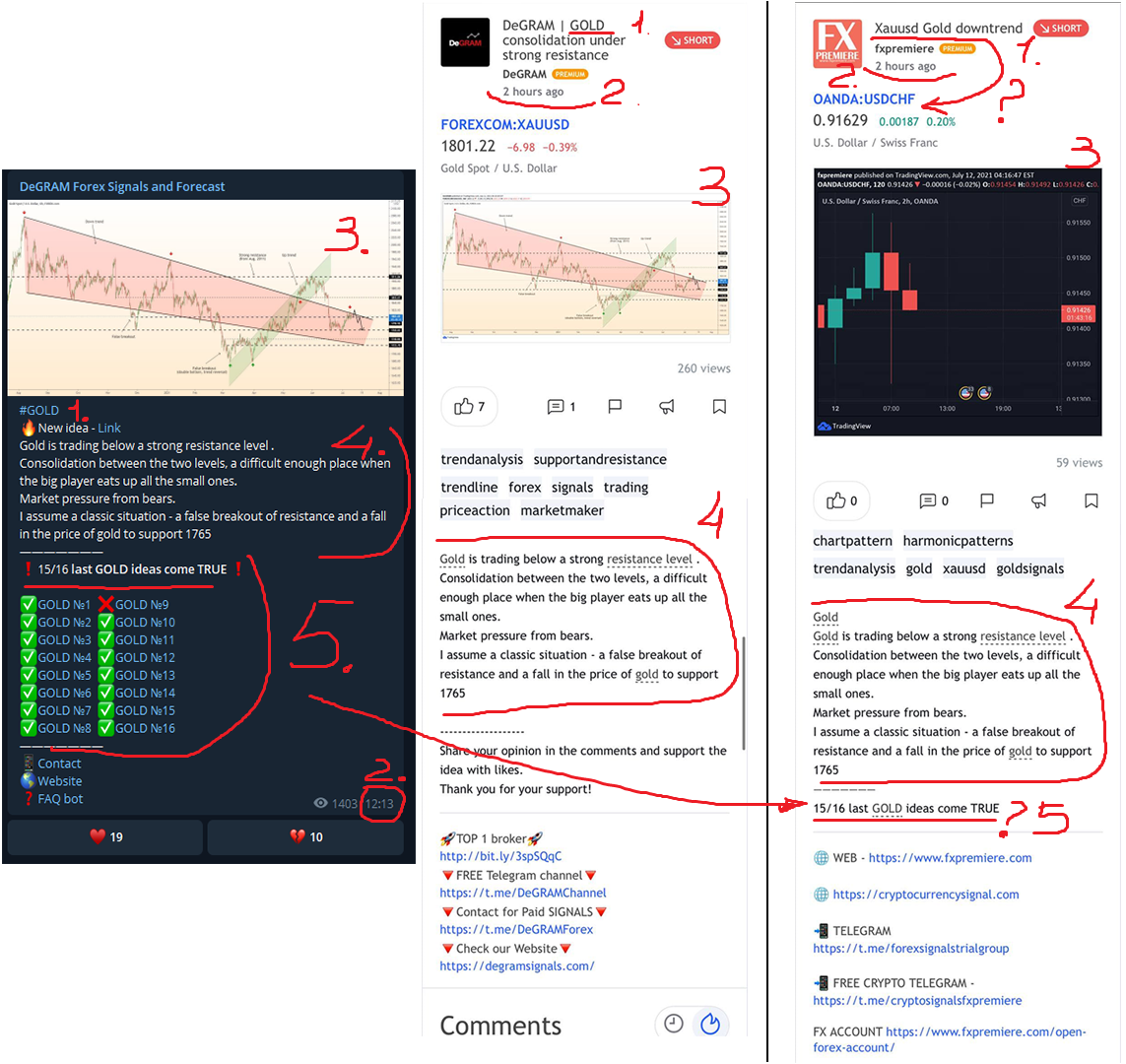 What is published on the Telegram channel? Everything is copied, even the graph. This prediction is made on the 30th of June. The financial asset is gold. Pay attention to the time of publishing - the familiar 4 hours.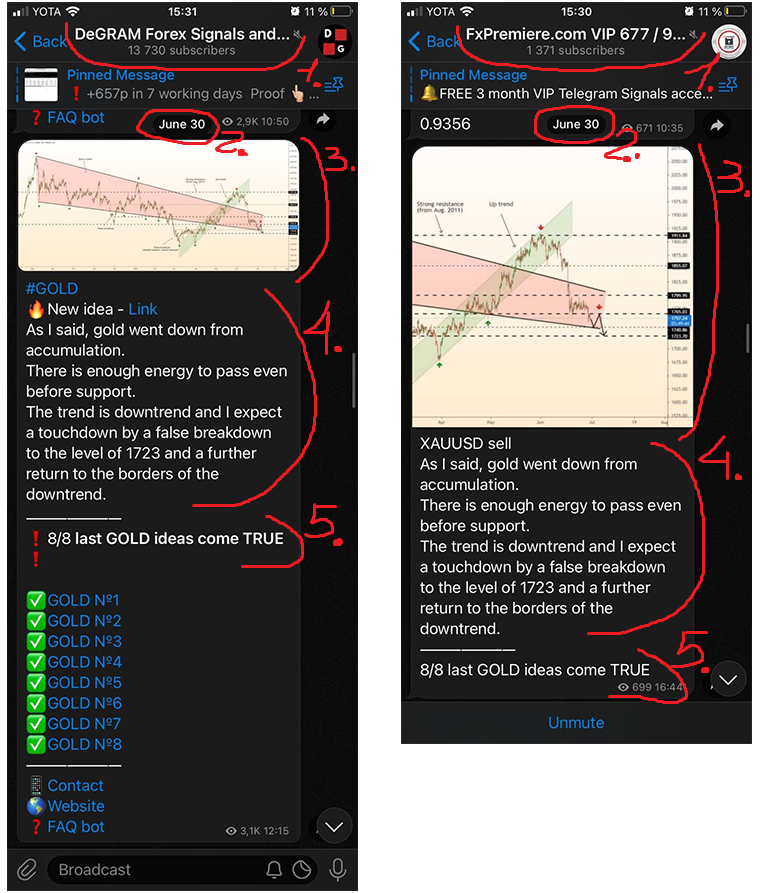 Let's consider the signals, there are a lot of interesting things here.
There are 5 different kinds of information presentations. That's what I have seen. Actually, there are 7 or 8 of them. The secret is easy. These "providers" use 5 sources where they steal information and translate it to their channel. There are at least 3 known sources:
DeGRAM Channel

Lingrid

1000pipbuilders.
Look at the screenshots above. They are different. Compare them:
The sequence of setting the direction of the deal. For example, some arrow symbols are inserted, three take profits, an @ symbol in front of the price.

Other symbols, sequence of setting the direction of the deal, two TP points, drawn symbols near every new string.

Absolutely another signal. One take profit, different directions of the orders. The price of key points has 4 symbols. Also, we don't see a comma and fractional numbers.

New signal. The direction starts with uppercase letters. Also, we see the @ symbol before the price. We also have two take profits.

Here we see limit orders and one take profit.
Signals differ in content. Usually, the providers give structured information. Everything is made clear, easy to understand, and structured. They don't set a goal to confuse people.
Let's recall the table with orders. More precisely, the string with the "by PriceactionLTC" mark that has a yellow background. PriceactionLTC gives very awful signals, but there is a scammer who steals such bad signals.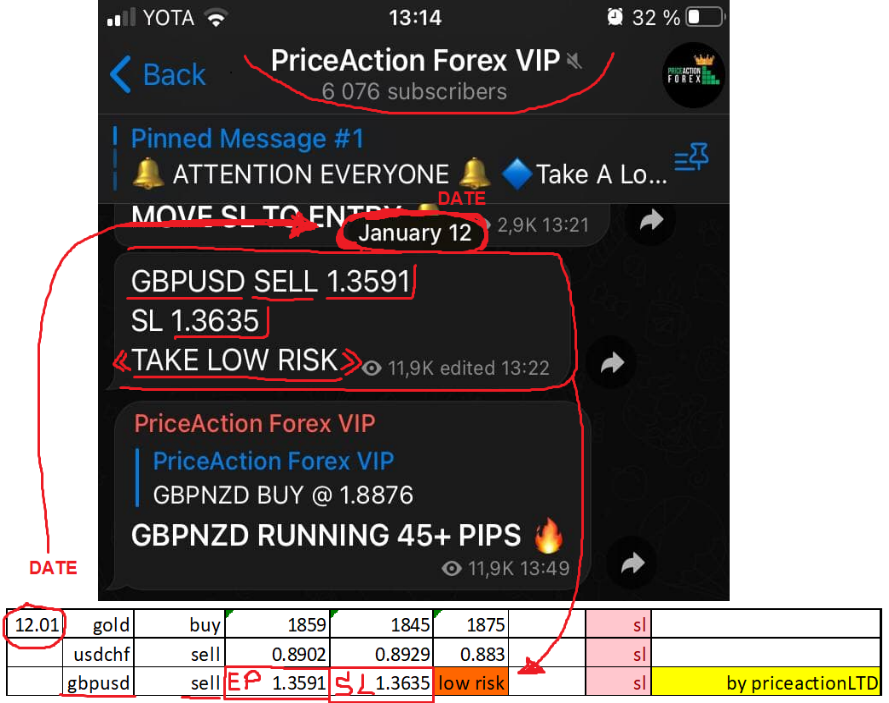 This is the string that we described above. Also, I found an FXPremiere signal. Also, we can see a stolen DeGRAM post.
Quality of orders
Let's discuss the quality of the orders. Since we don't see anything made by FXPremiere on the website and two Telegram channels with stolen predictions and signals, we need to pay special attention to their quality.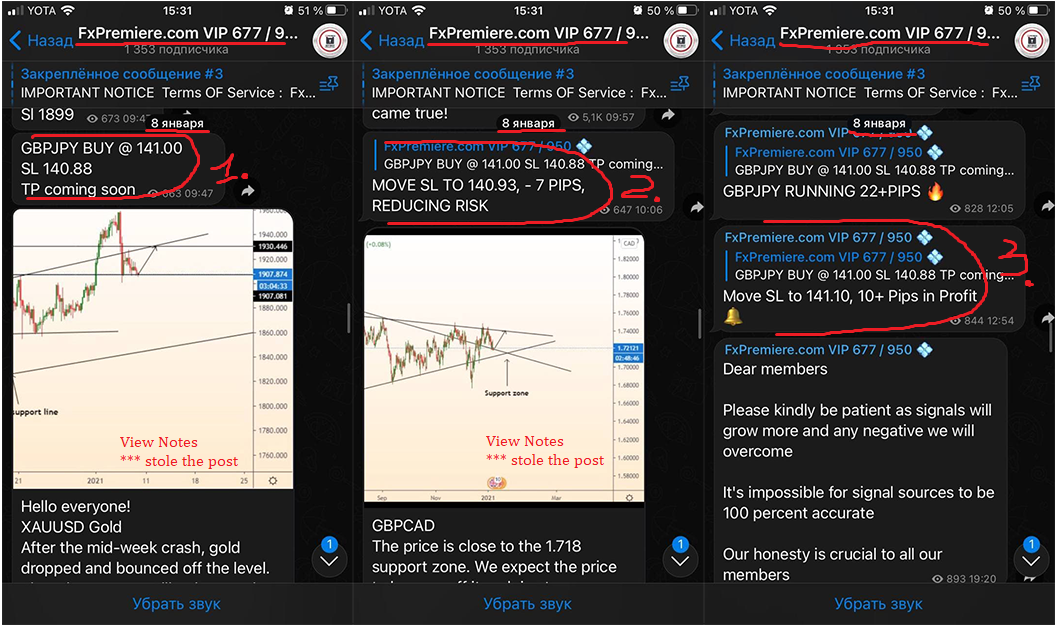 What is bad here? We have a signal to purchase GBPJPY. The most interesting thing is "TP coming soon".
Next, we see multiple moving stop loss points. All this information is published in different communities and it is hard to control these things.
Moreover, we have a fact of stealing the post http://t.me/DeGRAMChannel/2436.
http://t.me/DeGRAMChannel/2437. We see that the graph isn't for moving currency pair GBPJPY.
Wrapping up
What picture do we see as a result? FXPremiere aren't providers and analysts. They say the truth in this case. However, they lie in one aspect. They found 5-7 signals and just stole the signals. Also, they bought the bot for copying messages to Telegram and set up a business. They don't give their own signals. It is understandable according to the information written on the website.
For January 2021. we got 141 signals. Among them, we have the following results:
5 signals were wrong and have been deleted because they consist of mistakes, imprecise data, extra numbers in prices, etc.

52 signals were closed by Take Profit.

21 signals were partially closed (1 Take Profit has been reached) and others were closed by Stop Loss.

63 signals have been closed by Stop Loss. More precisely, don't expect profit no matter how much they steal.
Let's move to conclusions and start with positive aspects. To tell the truth, there aren't any positive aspects that this company has. Some signals are correct, but it isn't an achievement of this company.
What negative can we say about this company? A lot, actually.
A lot of mistakes in the signals. They haven't even managed to copy them without mistakes.

Awful signaling. The system isn't structured and isn't set. The signals are different, with different TP, graphs do not correspond to the currency pairs the trading signals are made for.

You can expect 1,2,3 take profits or you might need to wait for them.

Moving stop-loss, which increases the risk.

Plagiarism is almost everywhere not excluding warming up posts, forecasts, or signals. Those from whom they steal do not even suspect it, and if they know - what can be done here? The company has no address, no owner - nothing. They call themselves intermediaries, but they are just scammers.

You don't understand who you are working with. Personalities aren't known. There aren't any statistics, they don't analyze the efficiency of their signals. They just give them to earn money.
The general conclusion is the following: you'd better not work with them. FXPremiere are intermediaries. They don't produce anything worthy. They are just publishing copies of the existing information. You don't have the statistics, guarantee, and any reasons to trust them and work with FXPremiere. Save your money and use only the services of professionals.