Conditions and basic information
What does this company guarantee?
1-3 orders per day if the market allows and the instrument analyses with explanations are provided. That's actually it. The other five points are different variants of the same information. It isn't interesting for anyone.

The second block is a Forex XL course for 200 EUR. They give you VIP access. That is interesting because the real price for education is only 50 EUR. It tells us that the knowledge of experts is very weak.

The third block is FTMO: Funding accelerated program.
Below, we have some not very important information. However, there is one negative moment. The first block tries to describe the information about Edward who has been working for 8 years and is ready to share his experience with you. However, below is information about a team of independent traders that provides services both for beginners and experienced investors.
If you want to purchase signals, you need to go to the bot, and it is going to give you instructions. Also, you need to fill in a form with your personal data, other forms, and make payments via PayPal.
The website of this company is relatively new. The channel exists for a little more than a year. ForexXL.org is a domain that was registered at the end of December 2019. Therefore, this website isn't even two years old.
Reviews analysis
I have some questions for them about reviews. I went to the well-known website http://trustpilot.com, found their services, and got a very unattractive picture.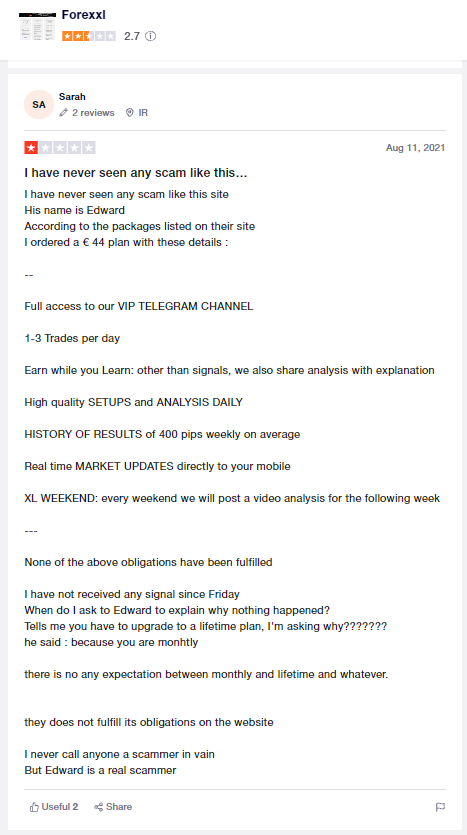 This is one of them, which you can find on http://trustpilot.com/review/forexxl.org.
Compared to Instagram, this provider publishes only positive reviews. This fact isn't fair to customers.
Social media
Let's look at an Instagram page and their YouTube channel. Instagram is a great and active page with short pieces of information. Also, you can find details about their results, profitable orders, and reviews. The general quantity of posts is up to 2% of the general quantity of subscribers. It has a really low number of reactions. We can draw a conclusion that it is fake data or the content isn't interesting for traders.
However, YouTube has a better situation. It is interesting. The content is short useful pieces of information about a trading process or reviews.
Paid subscription
Let's move to the most interesting. I bought a monthly subscription and want to tell you something.
The first step that I passed was opening a website and finding the link to the Telegram bot. You can pay for a subscription there and get access.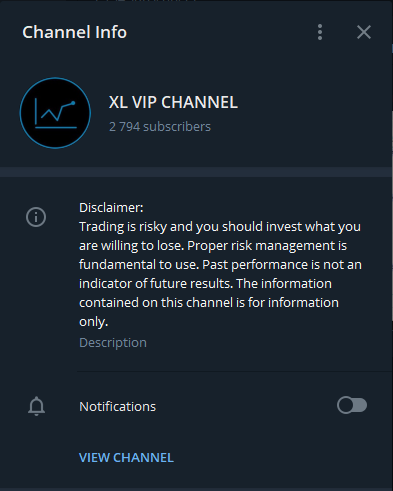 The Telegram channel consists of technical analysis in the form of ideas and video reviews. Also, it has:
Weekly reviews

Videos from YouTube channel for education

Ads

Special offers

Trading signals.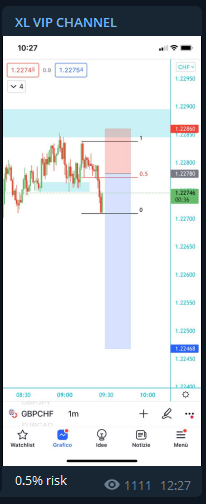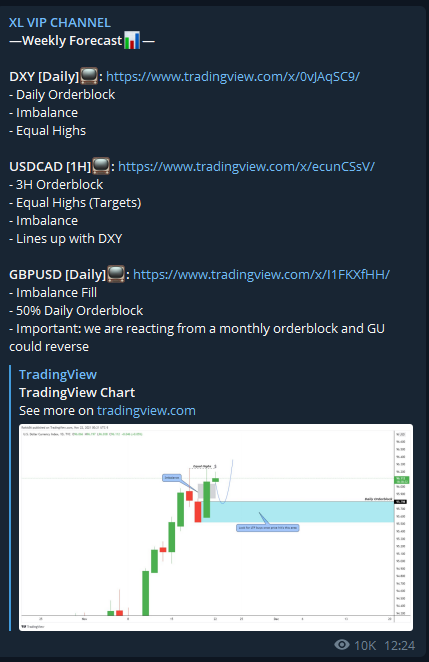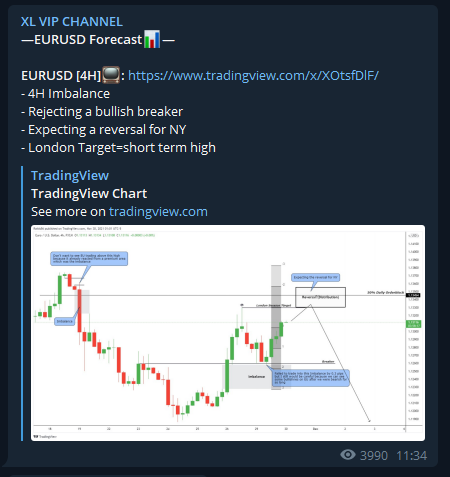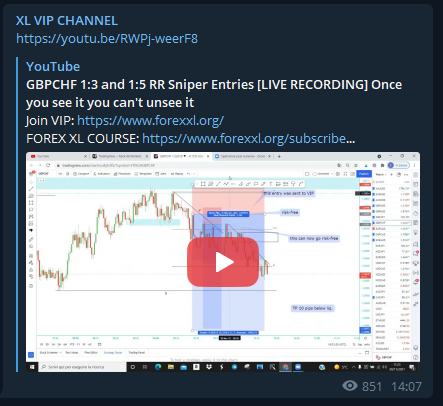 Trading signals are published in the following form.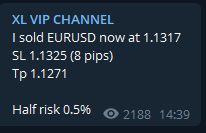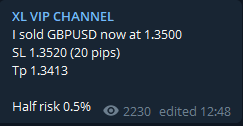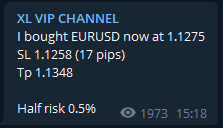 The provider does not give many signals for the period that I have checked. More precisely, 5 months. I got the following statistics:
The total number of orders for this period is 113.

Orders closed by take-profit – 19 or 16,81% of the total number of orders.

For this period, I have got +67,5 pips, that is 0,6 pips per order. Maybe, you won't be glad to get such a small profit.
The most profitable currency pair is EURJPY, 3 ideas and 242 pips of income.
The worst currency pair is EURUSD (we talk about profitability). The total number of orders was 45, and only three are profitable. The income for the checked period is -345,5 pips (half of all the income).
Regrettably, the provider has too small a history of orders to make better conclusions.
Wrapping up
Let's make some conclusions about the signal provider in general.
This provider has private signals, education, and great experience. However, the information in some aspects makes some questions in my mind. The provider says that it is one person and a team of experts.

Reviews are mostly negative. However, reviews on Instagram are better. It isn't actually surprising.

The approach is great. Everything is simple and understandable. If you want to buy some product, there is a fast way to do it. If you want education, there is a website. If you want to pay, use PayPal, and all the information will be saved. If you want to get signals, you can use a Telegram bot.

It has an informative Telegram channel.
What can we say about signals?
They are good. Nothing unnecessary. You get an entery point, stop loss, and take profit.

Take Profit isn't divided.

It has a great risk-income ratio. An average coefficient is about 4.0.
The signals are not so bad, but you should take into account the fact that reviews are negative.