General information
There are a lot of great reviews on forums where moderators closely control the quality of reviews.
This company was registered in Hong Kong but has staff working in Great Britain. It has its own YouTube channel with 282 thousand subscribers. You can find educational content there. There are a few video views: 7-8 thousand. It isn't good if we compare this number with the number of subscribers.
We have the same situation with Instagram where they have 52 thousand subscribers and only 100 likes. However, it is understandable because the content on social media isn't very good.
Signals and interaction with customers
The signals provision is quite different from other signal providers. It doesn't have any free groups and only gives 7-day trial access to the platform with signals and education. Everyone can subscribe to a trader they are interested in and get signals in this form.
At the moment when this article was written, there are 3 main traders who share signals: Andrew Lockwood, Mark Bennell, Max Norbury.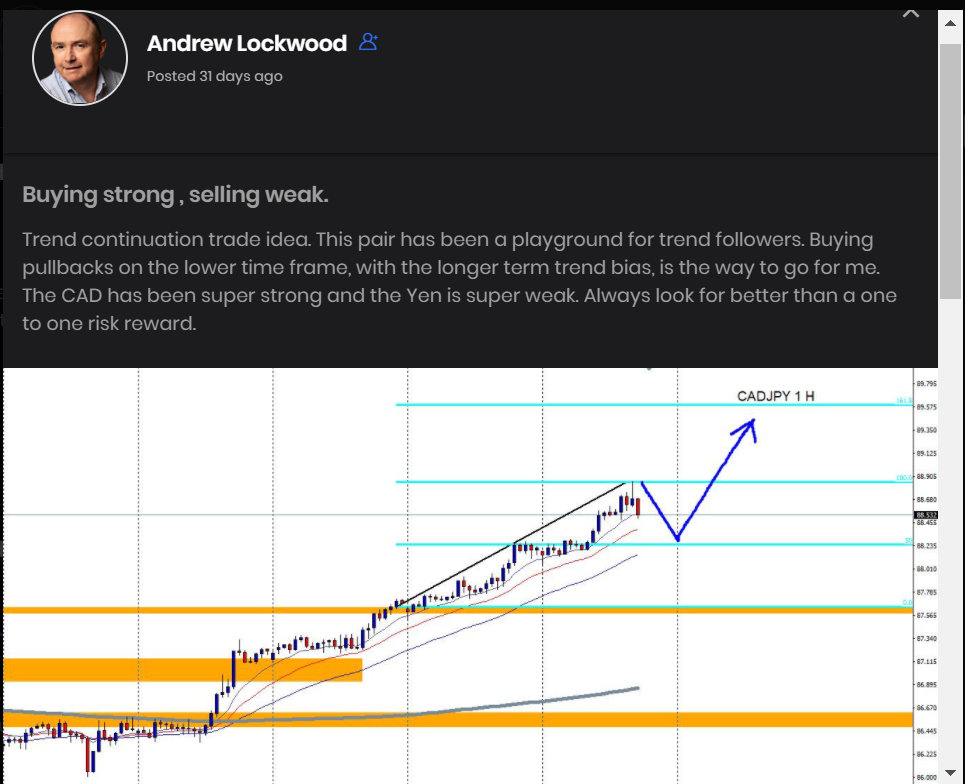 You can publish analytics and give signals on the platform of this provider. The better signals you give, the more subscribers you will have.
Forexsignals.com recommends some brokers, including ICMarkets. This is really a great broker, and we give you the same advice.
You can find a course delivered by each trader with more than 40 videos per analyst.
Also, they have several chats where 200 users on average are online. Also, there are chats with memes and jokes. You can find a Tools tab with the income calculator and order size calculator, and a lot of other interesting tools.
Should you trust these signals?
Let's talk a bit about the quality of these signals. Since we can open a signal and see the time when it was posted, we saved all the signals of the main traders for the last 3 years and checked them.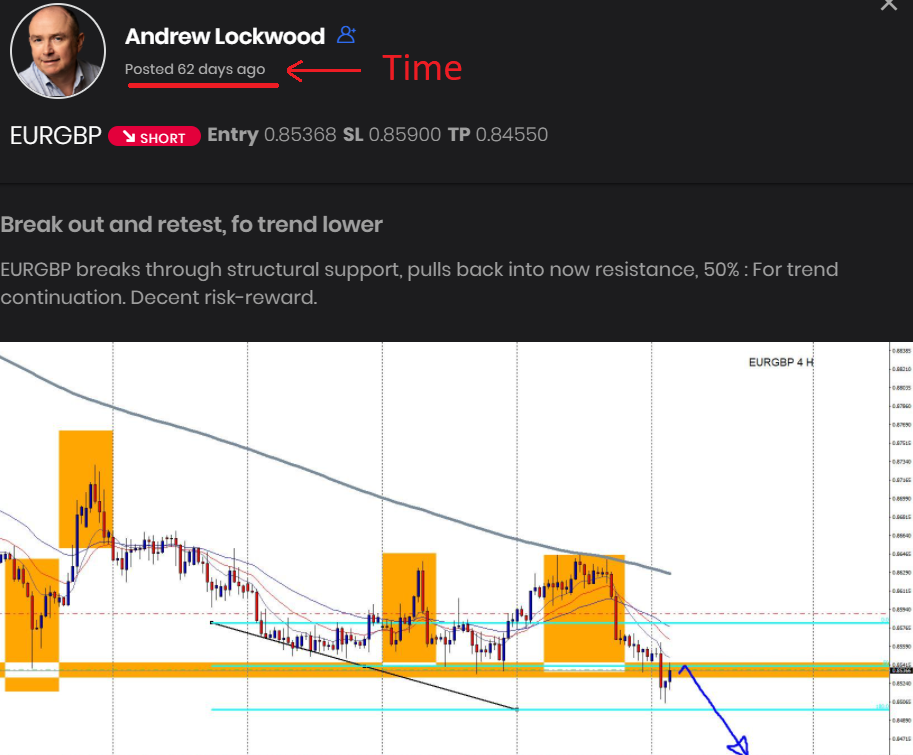 We analyzed the signals for the last 3 years and since 2020 separately. In this case, we can see the general picture and understand what signals this provider gives now.
We have the following results:
They have given 569 signals for the last 3 years. The average profit-risk ratio is 1.7. in 3 years, 51% of orders were successful.

The situation since 2020 is worse - only 45% successful orders and the average income-risk ratio was 1.6.
Next, we want to analyze each trader but we are going to hide some information.
The most successful trader was Andrew Lockwood. He has given 400 signals in three years that brought 4,144 pips with 10.36 pips on an average per signal. The risk-income ratio is 1.55.
Other suppliers are worse. Mark Bennell is a beginner on this list. He has the best average income but he has given only 16 signals and brought 205 pips. The average income-risk ratio is 0.99.
Max Norbury also made a great impression. He has the best risk-income ratio, which is 1.776. He brought 1568 pips for 153 signals.

Then, we compared pairs with each other and found out which signals were profitable.
We can use this data to understand that some pairs are very profitable but some traders aren't a great choice for you.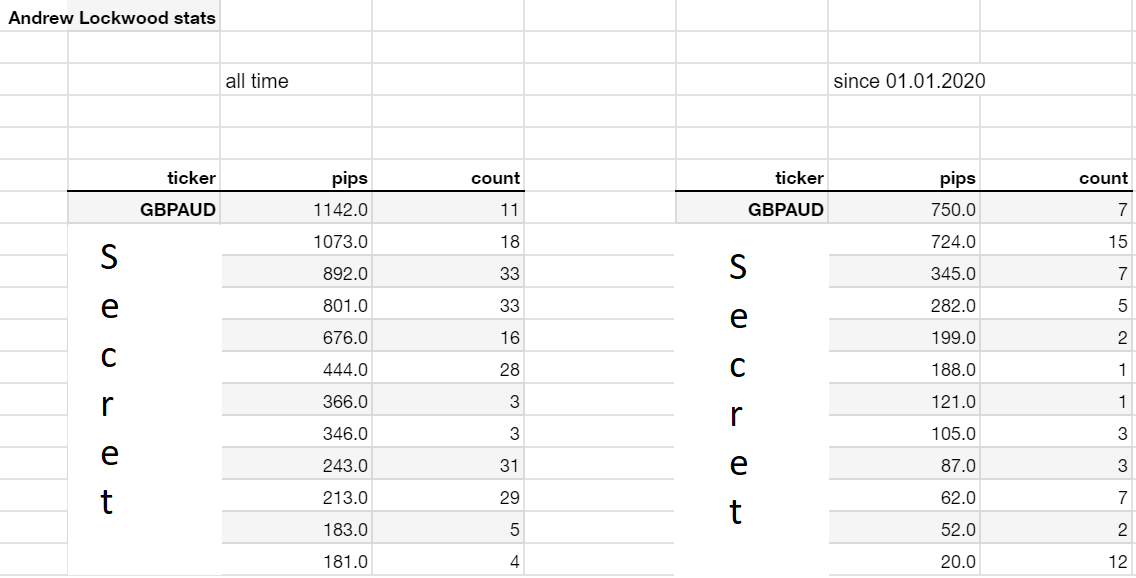 For example, we see how the best pair GBPAUD was traded 3 years ago and since 2020.
We have hidden other pairs specifically for making our signals better.
Andrew Lockwood trades 28 pairs. The currency pairs he loves are USDJPY and EURGBP with 33 signals per each.
Max Norbury loves EURAUD and GBPAUD with 17 signals for each pair for the last 3 years.
Mark Bennell is a beginner. Thus, there are not enough signals to say whether he gives us good signals or not.
We understood who is better in long-term trading and who is better in the short-term. Also, we got a percentage of successful orders by each currency pair to know which pairs are better to trade and which are worse. We have done all of this to make our signals better. However, this information is sufficient to draw some conclusions.
Important note! The quality of their signals has become significantly worse since 2020 (the income decreased 3 times compared to 2019).
In general, it is understandable because of the coronavirus pandemic. The market was very unstable in 2020 and it is a real reason why signals were so imprecise.
On the other hand, we analyzed signals including the year 2020, which was bad for forexsignals.com. We can come to a conclusion that signals provided during more stable times are a little better than our statistics, and this is undoubtedly a plus.
Advantages and disadvantages
Advantages of this signal provider:
It publishes great signals.

You have a test period of one week, which is enough to understand the pros and cons of this platform.

It has great educational content. We haven't analyzed it but there are a lot of videos on their channels. It is a real advantage because we buy not only signals but also an educational opportunity.

YouTube market analytics videos are published very often. Authors communicate with their subscribers using streams and chat.

You get more than just signals. You get analysis and their vision about a market. That's why even if you don't have a signal on a certain currency pair, you can look at an analysis made by main ForexSignals traders.
What are the disadvantages of this signal provider?
Incorrect data was published in 10% of cases, like in this case:


We see that the point is totally not understandable. Users can be confused or not open the order at all.

We see in reviews that you can't contact signal providers. They don't answer customers.




Actually, it isn't a very big problem because it takes a lot of time to answer each customer. As a result, signals will be worse because it is better to use this time for analyzing the market.

Since April 2021, authors don't give signals, only predictions.




To put it simpler, previously there was this string almost in each idea.





Now there isn't. Even in the description of ideas they don't give specific SL, TP, and enter points. It is bad because a lot of users are beginners and don't know where to open an order. We don't know why they removed the line with the exact order details.

They have only their own platform and don't give any signals. However, ideas are delivered to the email. That's why it isn't a very big problem.
Conclusions
Forexsignals.com is a great signal provider. They have good signals. If you trade the best signals after collecting all the information about them, you will get a very good income.
On average, you will get 1 signal per day. For some traders, it is not enough. However, it is a very good result.
We can give these signals a good mark: 4 out of 5. In our rating, they are in second place. These signals are great but there are a lot of problems. In addition, these signals have become worse since 2020.
Also, they are difficult for beginners. That's why you'd better use signals provided by our experienced traders. We collect the information from more than 100 traders such as Forexsignals.com.