General information and conditions
This provider doesn't consider free signals as a real recommendation. It is a powerful analysis instrument that helps traders to create their own trading plan for achieving results in investments.
According to the words said by this company, these signals are created by a team of professionals. It works on creating really effective trading signals that give traders an opportunity to earn additional money or even create their primary source of passive income.
The site has a lot of unnecessary information that is more like a compliment to themselves. That's why I don't want to consider it. Let's move to the prices of these signals.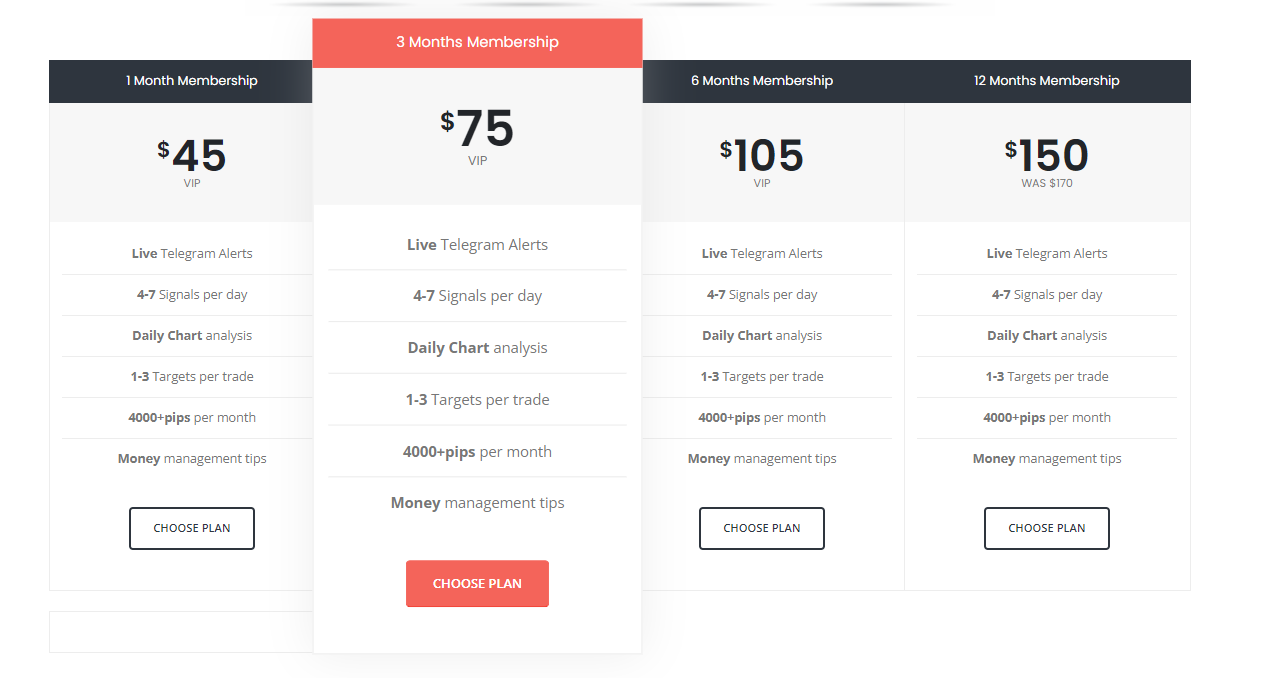 At 45 dollars per month, you will get access to a Telegram channel with signals. You will get 4-7 signals per day and 4000+ pips per month. Remember this number.
Easy Forex Pips makes an interesting offer. You can get unlimited access to their paid signals if you create an XM broker account and make a $1,000 deposit.
Some statistics
This is MyFxBook statistics. The owner of the account is yunben trader. https://www.myfxbook.com/members/yunben
This is a statistic on a provider's account: https://www.myfxbook.com/members/yunben/569851/3555810.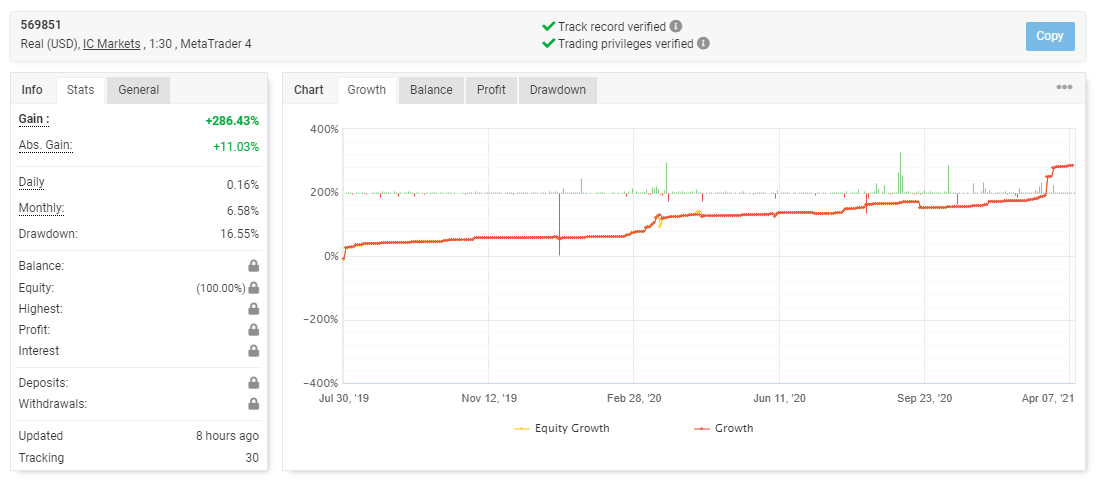 The account is opened at the end of July 2019. This trader has got +286% of income for 2,5 years. It is a very great result.
You can see the areas with sharp jumps where a deposit was increased by 30-110 percent per one trading day.
Telegram channels
The first Telegram channel is the following: http://t.me/EasyForexPips/.

On the channel, the results of orders are published. Moreover, a provider tries to show an order on graphs. Sometimes, the messages from a private paid channel are reposted to a free channel. It is a great advertisement. Also, we can find other types of ads there.
Traders will get news, screenshots of profitable orders, and statistics on the free channel. Naturally, reviews are also published.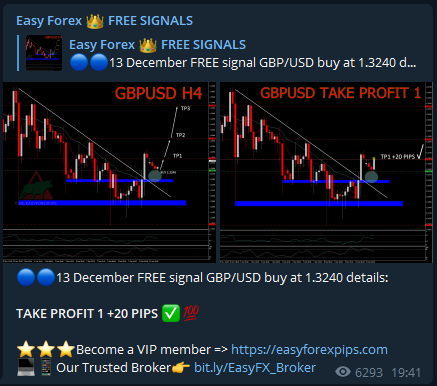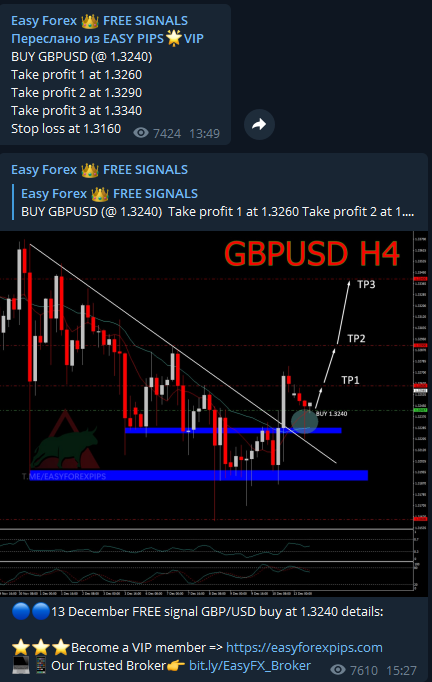 Also, this company proposes a channel http://t.me/EFhistory. There, the results are published.
Also, there is a channel with free and paid crypto signals on Telegram. Let's describe that in another article on my http://traderstat.com website.
Reviews by users
The best site with reviews is http://trustpilot.com/review/easyforexpips.com.

We see that this company has collected many positive reviews. However, most of them are very simple and similar. Very often, they are one or two short sentences about how great these signals are. We can't see there any other information that can be used for confirmation. If we talk about negative reviews, they include significantly more comments:
Bad analytics. Traders are doubting that any efforts are made in this direction. Also, the provider doesn't say anything about stop-losses when they are reached. Moreover, this company shift

Deleted chats with customers and very bad work of support. The public results in free channels are different from the real results. The provider wants to make an attractive picture on free channels.

Deleted bad results in the past. There is bad support. A person has lost 500 EUR because the provider didn't manage to set up the client's account for automated orders copying.



Social networks
There are several social networks where this signal provider is. The first one is Facebook https://www.facebook.com/EasyFxPips/. Actually, it is a copy of Telegram. On the page, you can find services, posts like on a Telegram channel, and ads.
This profile has 56,000 subscribers. In the description of this page, it is written that the provider is situated in London.
Also, this provider has its own YouTube channel with 8.18K subscribers. Videos are posted rarely, just 2 or 3 times per month. Mostly, they are short videos that are about the results of the provider. There is not so much really useful information.
Checking the signals
I have purchased a subscription and checked all the signals. However, before we move on to statistics, I want to show you something.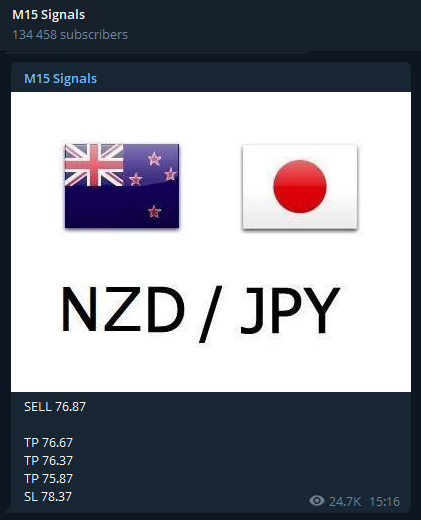 Two different groups: free channel of M15 Signals provider https://t.me/joinchat/AAAAAFjWr2HofJCa8C0k2w and private channel Easy Pips VIP. Compare them. It is very likely that the provider we describe steals signals because recommendations are similar. The free M15 channel signal was published 12 minutes before. This is a link to it: https://t.me/c/1490464609/2919.
Also, Easy Pips uses chips: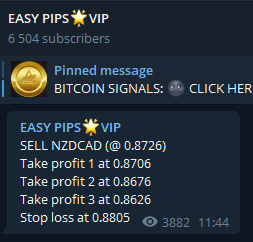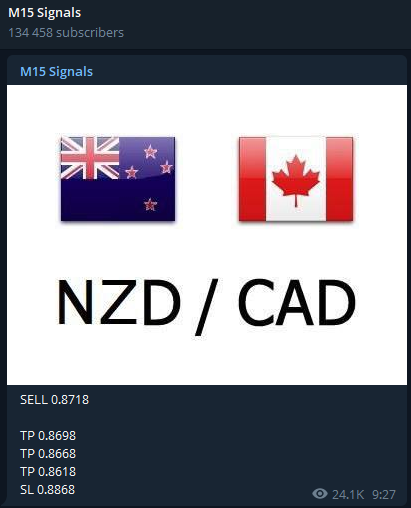 At first look, the signals are different. Even the data and time of publishing are different. However, you need to pay your attention to the sequence. In both cases, the signal with the entry point goes first, next we have three take profits, and the end point is stop loss. However, that isn't all. Easy Pips has a signal that is different from M15 by 0.00008 pips upwards. Now, you should look at the time the signal was published. It is different by several hours.
You can make the conclusions yourself.
Let's consider one signal that was published on the 15th of November, 2021. The base asset is GBPCHF.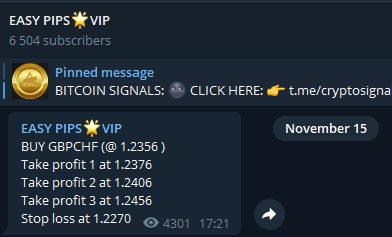 On the free M15 signals channel, I couldn't find this signal. Probably, it is only on a private channel.
I marked all the key points on the graph. The vertical blue line shows us the time when the signal was published. Now, you should pay your attention to the place of the price at the moment of signal publishing. The signal was 3 hours ago, but on the channel, the message about successfully closing the order is published. Therefore, at the moment of publishing, the order was profitable. It means that the signal is bad despite the successful ending. It is a great advertisement for a provider but customers haven't earned anything.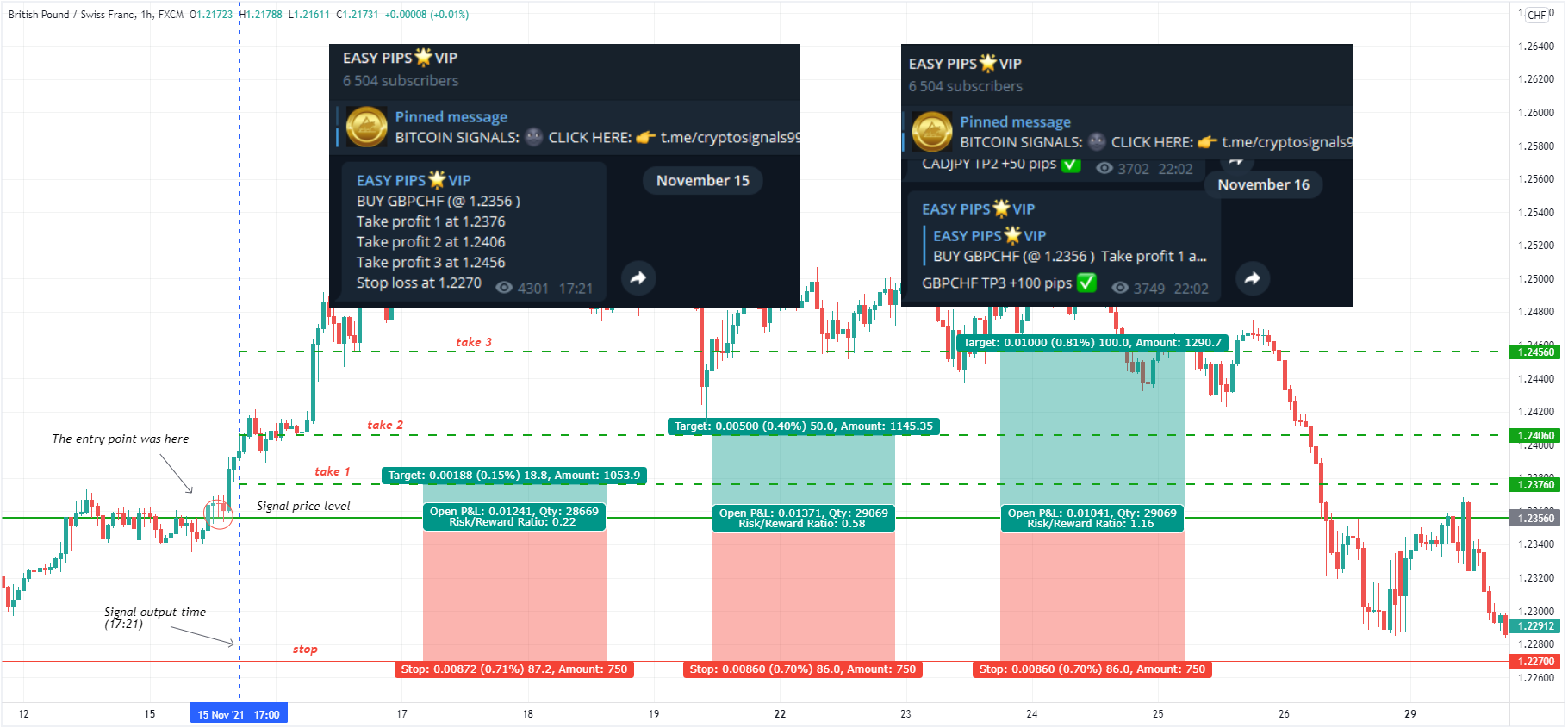 Statistics
Let's say some words about statistics of paid signals. I collected all the signals for two years and checked them. During this time, 2,260 signals have been published. The number of profitable orders was 1,847. The portion of profitable orders is 82,5% of all the positions opened with these signals.
However, don't rush to rejoice. There are 834 pips earned for two years. It is 0,369 per order. It is quite higher than zero. Is it a great provider?
You should pay your attention to a risk-profit ratio. I checked the signals by the first take profit, and it is logical that the order is closed by it.
The providers mustn't divide one take-profit into several. If they do it, it is a signal that the provider is bad.
Also, stop-loss is very big compared to the first TP.
Below, you can see a table with results for each order made by Easy Pips.
The most profitable currency pair is CADJPY. There are 98 orders for two years and 88 are profitable.

Earned 1124 pips.

The most unprofitable currency pair is NZDJPY. For the period that I checked, we have 98 signals and 67 of them are profitable. However, taking into account 68,37% of profitable orders, the losses are greater than the profit from the most profitable currency pair: -1688 pips.
Wrapping up
It is a scammer. It wants to deceive customers with the aim to make a profit for themselves. We can say nothing good about it. They steal signals, try to mask this fact with varying degrees of success.
Orders are profitable but SL nullifies all profits. Signals are published with delay, and when they are published on the channel, the order is actually finished with profit.
We don't have an income for two years of private signals but they guarantee 4000+ each month. The real result is 115 times smaller. Also, the reviews are very bad.